Austin, Texas Real Estate Market Update for April 2021
Austin, Texas in the first quarter of 2021 is experiencing the most robust real estate market in its history. Some recently listed homes in our network have received 50… 60… even 70 offers — within just days of being put on the market! And while that's certainly an extraordinary number, multiple offers are absolutely the norm these days.
So how's the Austin real estate market faring, and how does it impact you?
In this post, we'll be covering some need-to-know real estate market statistics from the first quarter of 2021. Whether you're a homeowner intrigued about their home's increased equity or a homebuyer worried about how the heck you're going to find your next home with so little available inventory, check out these numbers.
What's Happening in the Austin Real Estate Market?
Here's a breakdown of the most recently reported statistics from the Austin Board of Realtors, published in February 2021. These data are for the Austin-Round Rock Metropolitan Statistical Area (MSA), specifically.
The Median Sales Price is $395,000, which is an increase of 22% year-over-year for a total of $1.2 billion in Total Sales Dollar Volume. That means that this time last year, Austin was significantly more affordable to move into. 
But though affordability is down, demand certainly is not. Pending sales are up by 15% year-over-year to an impressive 2,573 Pending Sales. And homes are spending an average of just 31 Days on Market.
Lack of inventory, or available homes to buy, is at a critical juncture with only 0.4 Months of Inventory. This has caused the numbers for closed sales, new listings, and active listings all to drop: we've had 2,389 Closed Sales (down 8% from last year), 2,565 New Listings (down 24% from last year), and 1,310 Active Listings (down 74% from last year).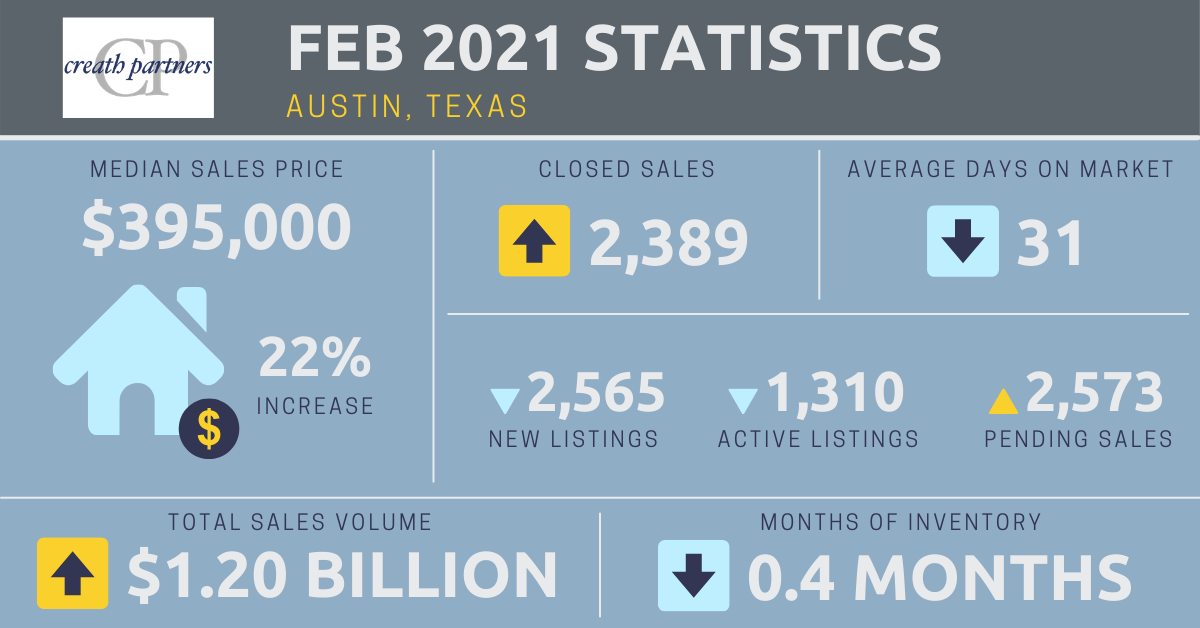 What Does This Mean for Austin Homeowners and Sellers?
Austin homeowners, you are in a powerful position if you decide to sell right now. In a classic demonstration of supply and demand, your home is a hot commodity that buyers will pay top dollar for — more than they ever have before.
With that being said, it's very important for you to have a plan in place for what you're going to do AFTER your home sells. As the numbers show, your property is likely to move very quickly from list to close, and it might be tough to find your next home due to the tight inventory in our market.
When you work with Creath Partners, you can rest assured that we'll guide you every step of the way. We'll design a marketing plan specific to your home and your needs, sort and negotiate through all those offers that will come pouring in to find the best one, and then help you figure out your next move.
If you're thinking of selling, start with a complementary Home Value Report.
What Does This Mean for Austin Home Buyers?
Austin home buyers, let this be your wake-up call: our city's real estate market is TOUGH. And it's changing every day. What was the norm even three months ago is old news. You have to be prepared to move very quickly when you find a home that meets your criteria.
That means that you have to be fully financially prepared to make an offer. Cash buyers, have some sort of Proof of Funds, such as a statement from your financial institution. If you're planning on getting a loan, make sure you're completely pre-approved before you even start your search.
It's also critical that you work with an agent who is in tune with the market and has a good reputation with other agents in the Austin area. Having an experienced, well-known, and reputable REALTOR on your side, like Jonathan or Garry Creath, is going to help your offer stand out amongst the many. This is because the listing agents will know — and tell their sellers! — that we're going to do everything in our power to help finalize your purchase.
Curious about what's available in the Austin market? Click here to receive free Austin Market Updates.
Conclusion
The Austin real estate market is getting more and more competitive every day, but we at Creath Partners can help you win big. Whether you're thinking of buying or selling, reach out to us today for a free consultation. We can't wait to work with you!
Source: